A Taste for Food Science
Wednesday, August 1, 2018
OSU alumna channels her passion into nutritional safety
By Jenny Berry
Like many students before her, Courtney Elroy was unsure about the path she wanted to take when she arrived in Stillwater in 2014.
The Marlow, Oklahoma, native had a passion for food, but she didn't know where that might lead. Culinary school didn't appeal to her, but there was another option.
"My brother was at OSU, and he heard about food science," Elroy said. "He thought it would be something I was interested in."
She met with Dr. Ranjith Ramanathan, an assistant professor in Oklahoma State University's Department of Animal and Food Science, to get an overview of the program and ended up declaring her major in food science with an option in food industry.
Ramanathan became one of Elroy's advisers and biggest sources of support. She said he 
was always willing to help her and answer any questions she had about her classes or even her future.
Ramanathan wasn't the only professor who guided Elroy. Dr. Ravi Jadeja, an assistant professor and food safety specialist in the Robert M. Kerr Food & Agricultural Products Center (FAPC), also played a big role in Elroy's journey at OSU.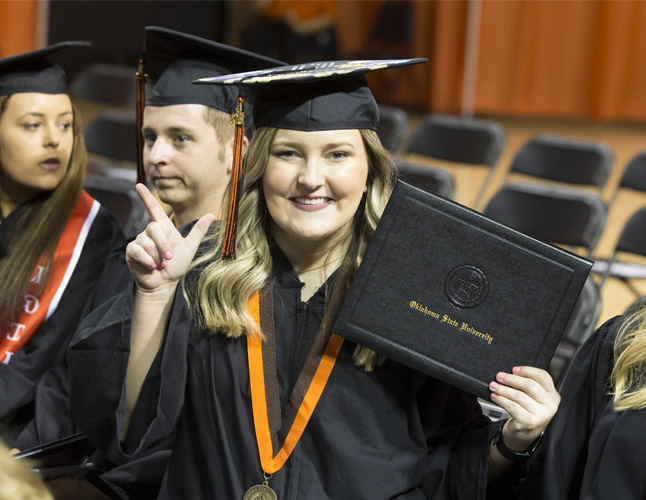 "Dr. Jadeja has been there for me from the beginning," Elroy said. "Anytime I didn't know what to do or didn't know if I was doing the right thing, I knew I could call him and he would guide me through it." Jadeja came to OSU in spring 2015, just in time for the food safety option.
While Elroy did not pursue an option in food safety, the subject still intrigued her. In the fall of her sophomore year, she enrolled in her first food safety course.
"Courtney has taken seven of my classes," Jadeja said. "She is hardworking, she has an interest in food safety, and she has experience through her internship with Clemens Food Group, so she always asked relevant questions in class."
In one of Jadeja's classes, students visited food processing companies and met with industry professionals. This class often has a magical effect on students, he said.
"It allows them to meet with professionals, connect and understand" where they could be in the future, Jadeja said. The class often piques students' interest in food safety and motivation to pursue their goals.
Elroy was no exception. In addition to bolstering her interest in food safety, the class gave her a better understanding of the industry and a clearer vision of her future, she said.
"Before that class, none of us had any idea what we were getting into," Elroy said. "Dr. Jadeja's class helped us to understand the jobs we would be doing in the future."
A new beginning
Elroy is passionate about giving back to the community and making sure Oklahoma families are consuming only the safest food available. That is why she began working in the quality assurance department at J-M Farms in Miami, Oklahoma, in June.
"I'm really excited to be working for J-M Farms because everyone is so friendly there," Elroy said. "They value family over everything. I couldn't imagine a better environment to start out my career."
J-M Farms has been an important member of the Oklahoma agricultural community for many years. Founded in 1979 by Darrell McLain and Virgil and Joe Jurgensmeyer, J-M Farms distributes roughly a half-million pounds of mushrooms each week across Oklahoma, Arkansas, Texas, Missouri, Iowa, New Mexico and Mississippi.
Citing its concern for its customers' and employees' safety and wellbeing, J-M Farms strives to provide quality products from clean, safe environments. It employs nearly 500 people from Miami and the surrounding area.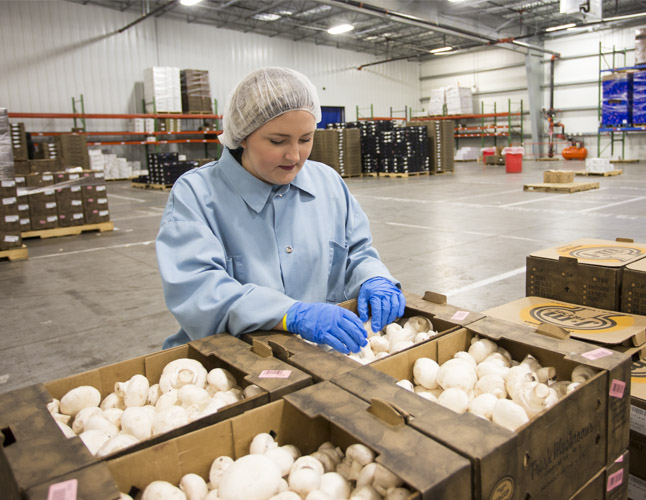 The company works to ensure the safety of the mushrooms it produces as well as create a better quality of life for its employees and community. By hosting an annual charity golf tournament and a United Way drive, J-M helps raise funds to create a stronger community.
Sandra Banks, director of quality assurance at J-M Farms, said the company also encourages its employees to donate their time, money and efforts to help the region thrive.
"There are roots in this community," Banks said. "The better we can make the vicinity, the more satisfied people are." Banks said the company has given advice and guidance to small Oklahoma farmers who want to start selling their produce.
J-M Farms seeks reliable, detail-oriented candidates who are curious about the mushroom-growing process. Banks said she believes OSU graduates fill that bill and said J-M Farms offers a great career path for Oklahomans who want to stay local.
Elroy fits that description of a great job candidate, she said: "She pays a lot of attention to what's going on. She demonstrated an understanding of the layout of the food safety program."
Elroy credits that understanding to the experiences she had in FAPC at OSU. While working with the Department of Animal and Food Sciences Research Scholars Program during her freshman year, she conducted research in FAPC on different products and baked goods.
"Getting to work inside ... FAPC really helped me understand the industry," Elroy said. "All of the different things they offer teach students valuable lessons."
Hands-on Experience
Students get hands-on experience in FAPC that prepares them for careers in food science. The processing floor, housed on the second level of the building, allows students to work with industry professionals on everything from meat and dairy processing to product and recipe development.
"They come here and get experience while they're students," said Mandy Gross, FAPC communications services manager. "When they're ready to graduate and get a job, they already have that real-world experience."
Virgil Jurgensmeyer, one of the founders and the chief executive officer of J-M Farms, is closely involved with FAPC. As one of the original members of FAPC's Industry Advisory Committee (IAC), he helped start the food safety program at the university.
The program began in April 2015, after an initial IAC donation of $1 million.
It is one of few food safety programs in the United States. The program combines knowledge of food science with critical issues relating to food safety, government regulations and food safety programs and certifications.
Students in the program earn certificates in the Hazard Analysis and Critical Control Points and Global Food Safety Initiatives programs, giving OSU students an advantage that few other graduates have.
Graduates are ready to enter the workforce as food safety specialists, quality assurance supervisors or food safety and quality auditors. Through her food safety courses with Jadeja, Elroy earned a handful of these certifications that helped her land the position at J-M Farms.
FAPC has a long-term relationship with J-M Farms, serving as a valuable resource for the company, providing food safety assistance and researching and developing new products.
"I feel honored to work for an Oklahoma company like J-M Farms," Elroy said. "I think it's really neat that I will have a part in making sure people's food is safe. This is the food people are feeding their families."
Elroy is ready to give back to Oklahoma and its people. And while she will always have her OSU family in Stillwater, she is eager to learn and grow with her new J-M Farms family.