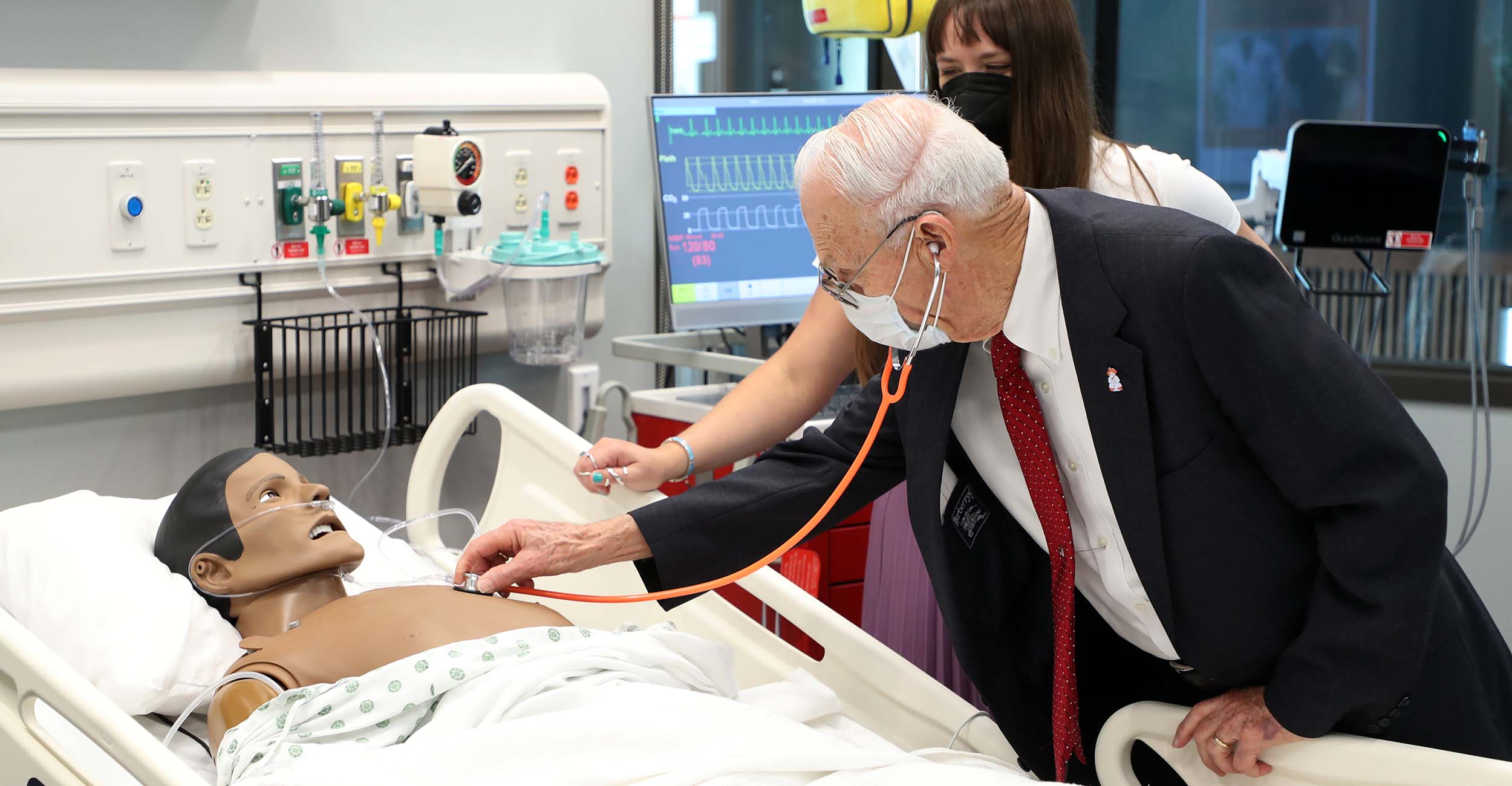 OSU College of Osteopathic Medicine-Cherokee Nation donor honors Native American teacher
Wednesday, August 25, 2021
Media Contact: Mack Burke | Editorial Coordinator | 405-744-5540 | editor@okstate.edu
They say stories have the power to connect us to each other. For Lieu Smith, one story in particular provided an unexpected opportunity to reengage with his alma mater and reconnect with the family of a woman who changed his life.
Last year, STATE magazine ran an article about the new OSU College of Osteopathic Medicine at the Cherokee Nation. Smith, a 1954 and 1957 Oklahoma State University graduate from Okeene, Oklahoma, read about the new program and learned how the facility was donated by the Cherokee Nation.
The story reminded him of his English teacher at Okeene Elementary School in the mid-1940s.
Kathryn Lorene Whiteturkey (maiden name), a Cherokee woman, told Smith as a child that he could accomplish anything.
"You never know the impact you have on people," he said.
Looking back, Smith said he learned about the Cherokees and other nations while studying Oklahoma history. Even as a child he realized all that his teacher and her people had overcome.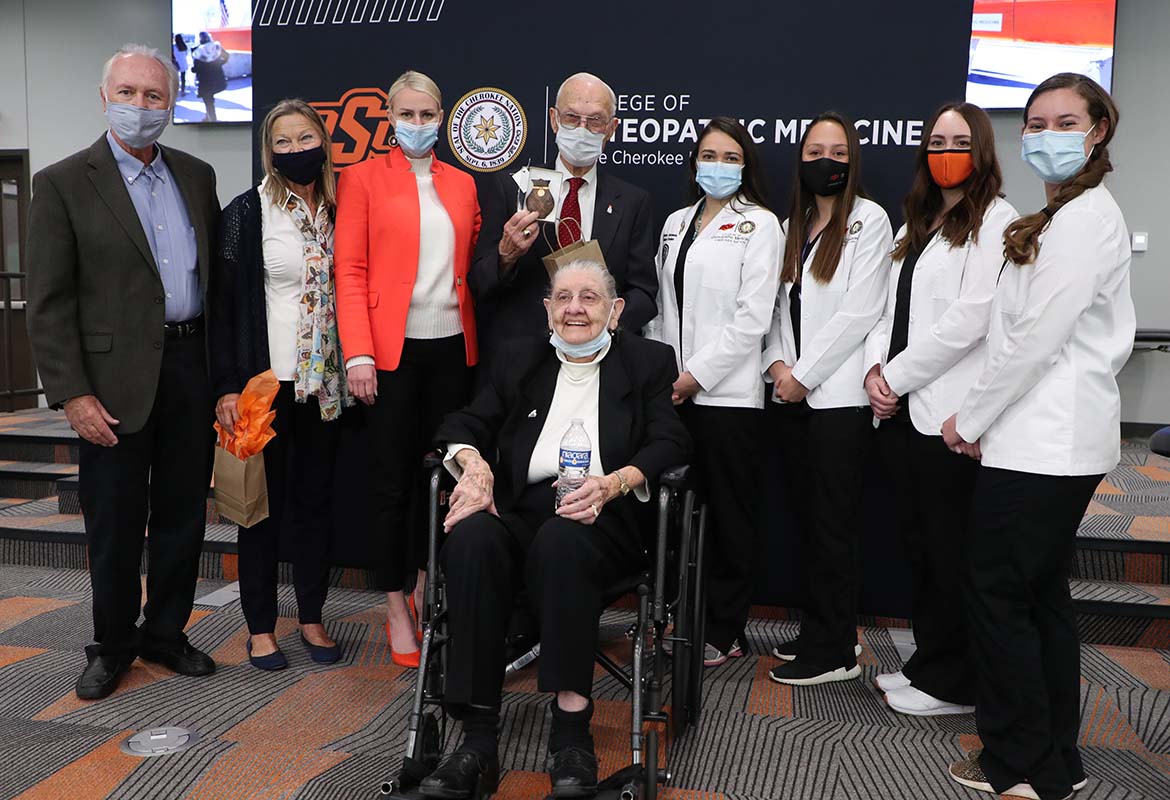 "When I learned as a student the way Native Americans were treated, I wondered how my English teacher rose above all of that to become the wonderful person she was," he explained. "I knew it had to be within her. As I thought on that, it inspired me to help others."
More than seven decades later and inspired again by his former English teacher, Smith recently gave $1.1 million to establish the Lieu Ray Smith and Kathryn Lorene Whiteturkey Endowed Scholarship. Awards will go to female Native American students studying to become future physicians of OSUCOM-Cherokee Nation.
"The gift of an educational opportunity like the one Lieu Smith generously provided can impact an entire community as well as generations of those who follow," said OSU President Kayse Shrum.
"[Kathryn Whiteturkey] taught me I could go to college. I wanted to make this gift in honor of her and the impact she had on my life and the lives of others," Smith said.
Smith went on to work as an engineer throughout his life and retired from Sverdrup Corporation where he served as the vice president of advanced technology projects and head of conventional construction division in 1993. While his work involving testing platforms for space shuttle programs is different from topics taught at OSUCOM-Cherokee Nation, the skills learned are similar.
"You never know how you will use the tools you learn in school in your community," he explained. "You will learn a lot in school and end up taking that knowledge with you throughout your life."
And in a full circle way, Smith is now helping other students see the same potential in themselves that Whiteturkey saw in him.
"We are really working to change the perspectives of students and children in our communities," said Dr. Natasha Bray, associate dean for academic affairs and accreditation. "This gift will help these young people know a future in medicine is possible for them. "We are so thankful you all are giving this opportunity to our students. It really will be life-changing."
During a recent visit to the OSUCOM-Cherokee Nation facility in Tahlequah, Smith and his family had the opportunity to meet with several female students. They assured him that Whiteturkey knew he was helping students even though she passed away years before. For Ashton Glover-Gatewood, an enrolled member of the Choctaw Nation and also a descendent of the Chickasaws and second-year student at OSUCOM-Cherokee Nation, Smith's gift was about more than funds for school.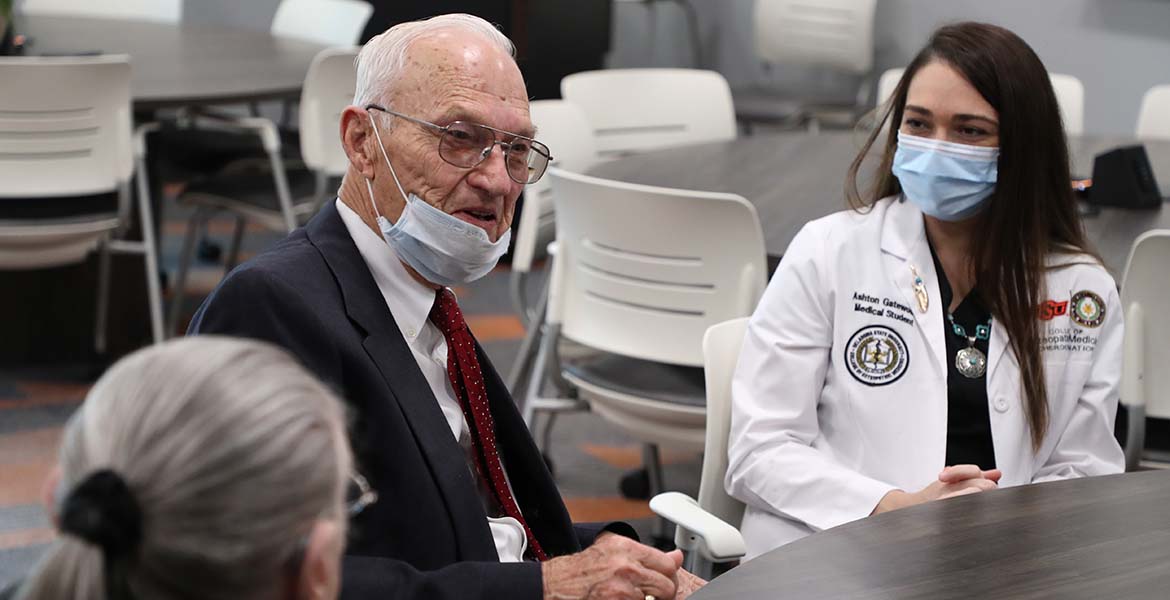 "This gift will help ensure my family is taken care of," she said. "By allowing more women to pursue an education in medicine, I know there will be Native practitioners available to help my family."
The ripple effect of this gift is one that will continue for generations as students continue to go out into the communities and help others.
"Because of this gift, we can show other Native women and girls that they can achieve their goals," said Caitlin Cosby, a student from Keller, Texas, and an enrolled member of the Choctaw Nation.
And the OSUCOM-Cherokee Nation facility is filled with nods to Native American heritage and culture. A quick tour around the building and you will find artwork, weaving, beading, clothing and more from many Native artists.
"We are reminded every day of the tribal culture by our campus and the goal of giving back to our tribes," Cosby said.
The inclusion of so many pieces of Native work in the building was intentional to bring together the mission of osteopathic medicine to treat the patient as a whole and the culture of Native American medicine.
"We want to make sure our students have a focus on caring for Native Americans and individuals living in rural communities," Bray said. "This philosophy of mind, body and spirit teaches the value of nurturing relationships with patients."
At the end of the day, Smith just hopes this gift makes a difference in the lives of OSUCOMCherokee Nation students.
"It is an honor for me to give back and help the Native Americans help serve their people," Smith said. "I hope it is a large enough gift to perpetually help." OSU has since helped Smith and his family connect with Whiteturkey's living relatives.
ABOUT THE OSU COLLEGE OF OSTEOPATHIC MEDICINE AT THE CHEROKEE NATION
° The OSU College of Osteopathic Medicine at the Cherokee Nation is the first tribally affiliated medical school in America.
° The new medical school is located on the campus of W.W. Hastings Hospital in Tahlequah, Oklahoma, in the heart of the Cherokee Nation.
° The new medical school campus supports the mission of educating primary care physicians with an emphasis on serving Native and rural populations in Oklahoma.
° Teaching space includes an anatomy laboratory, clinical skills lab, osteopathic manipulative medicine lab, standardized patient labs and a simulation center that will feature a state-of-the-art hospital/clinic simulation center equipped with lifelike, computer-programmed manikins that mimic a number of medical conditions to teach medical students in specialties such as emergency medicine, pediatric/adult medicine, labor and delivery and newborn care.
Photos By: Matt Barnard
Story By: Karolyn Moberly | STATE Magazine