Gone Fishing: VP and Dean Tom Coon retires after nine years at OSU
Tuesday, September 5, 2023
Media Contact: Mack Burke | Associate Director of Media Relations | 405-744-5540 | editor@okstate.edu
As a kid growing up in Iowa, Tom Coon loved being outdoors. He spent a lot of time in corn and soybean fields and baling hay, but what he enjoyed most was spending time along a river, creek or pond.
After nine years of serving as vice president and dean of Oklahoma State University's Division of Agricultural Sciences and Natural Resources, Dr. Coon decided to hang up his many hats and reconnect with his family and love for aquatics.
"It's not just the fishing," Coon said. "It's going back to that kid in Iowa and finding joy in discovering a larval fish in a small stream in the woods. Reconnecting with that sense of joy I've had throughout my life taking part in anything aquatic."
From July 2014 to July 2023, Coon provided dedicated service and leadership to the Ferguson College of Agriculture and the university's two state agencies: OSU Extension and OSU Ag Research.
"Dr. Coon is a visionary leader and has been a driving force of transformational progress for OSU's Division of Agricultural Sciences and Natural Resources and the Ferguson College of Agriculture," OSU President Kayse Shrum said."His record-breaking fundraising efforts in the New Frontiers capital campaign provide a new college home for generations of students and vastly increase the space and resources for academic support and agriculture research. Dr. Coon has made a significant impact on the agricultural landscape for 40 years and is leaving behind a remarkable legacy of dedicated service."
Coon earned a Bachelor of Arts in biology from Luther College in Decorah, Iowa, and a Master of Science and doctorate in ecology from the University of California, Davis.
"To students, he's been a great role model. When they were around him, he was Dr. Coon or Dean Coon, but that's not how they felt around him. They felt like he was someone they knew cared about them. I think that's a special quality to have in a leader."
— Dr. Cynda Clary, Associate Dean of the Ferguson College of Agriculture
He began his career as an assistant professor of fisheries and wildlife at the University of Missouri. He then worked as an assistant professor and associate professor of fisheries and wildlife at Michigan State University before becoming a full professor.
Coon also served as the director of Michigan State University Extension before assuming his leadership role at OSU.
As vice president and dean of OSU Agriculture, he worked extensively with public and private agencies, community leaders, and state and local elected officials. He served as chief OSU administrator for more than 200 faculty, 300 Extension staff, and 300 support and administration staff located on campus and across the state.
Coon said he is most proud of the relationships he's built with faculty, staff and students, but also with alumni, donors and the industries OSU Agriculture serves.
"The thing that is special about this place, this college and this division is those relationships," he said. "I've been fortunate to be able to come into this family as an outsider and be included and considered part of the family."
Coon said deciding to retire was two-fold. First, it felt right from a personal standpoint to be able to spend more time with his wife, Rhonda, two sons and daughters-in-law, and four grandsons.
Throughout Coon's career, Rhonda has been supportive and a sounding board for decisions.
"Her agreeing to come to Oklahoma was the most important thing," Coon said. "She didn't hesitate. There was a sense of adventure. My nature is not to be all that outgoing, and hers is. It's been helpful for me to think things through from her perspective. She's always been a great resource for me to bounce things off and gives me honest feedback, but she's a lot more than just a support system."
Secondly, he felt it was the right time for a transition in OSU Agriculture.
"Before moving into the new building, I think it's important the new leader is on board and experiences that move-in," Coon said. "If I were to stay on and go through the move-in and then retire, I feel like that puts my successor in a tough spot."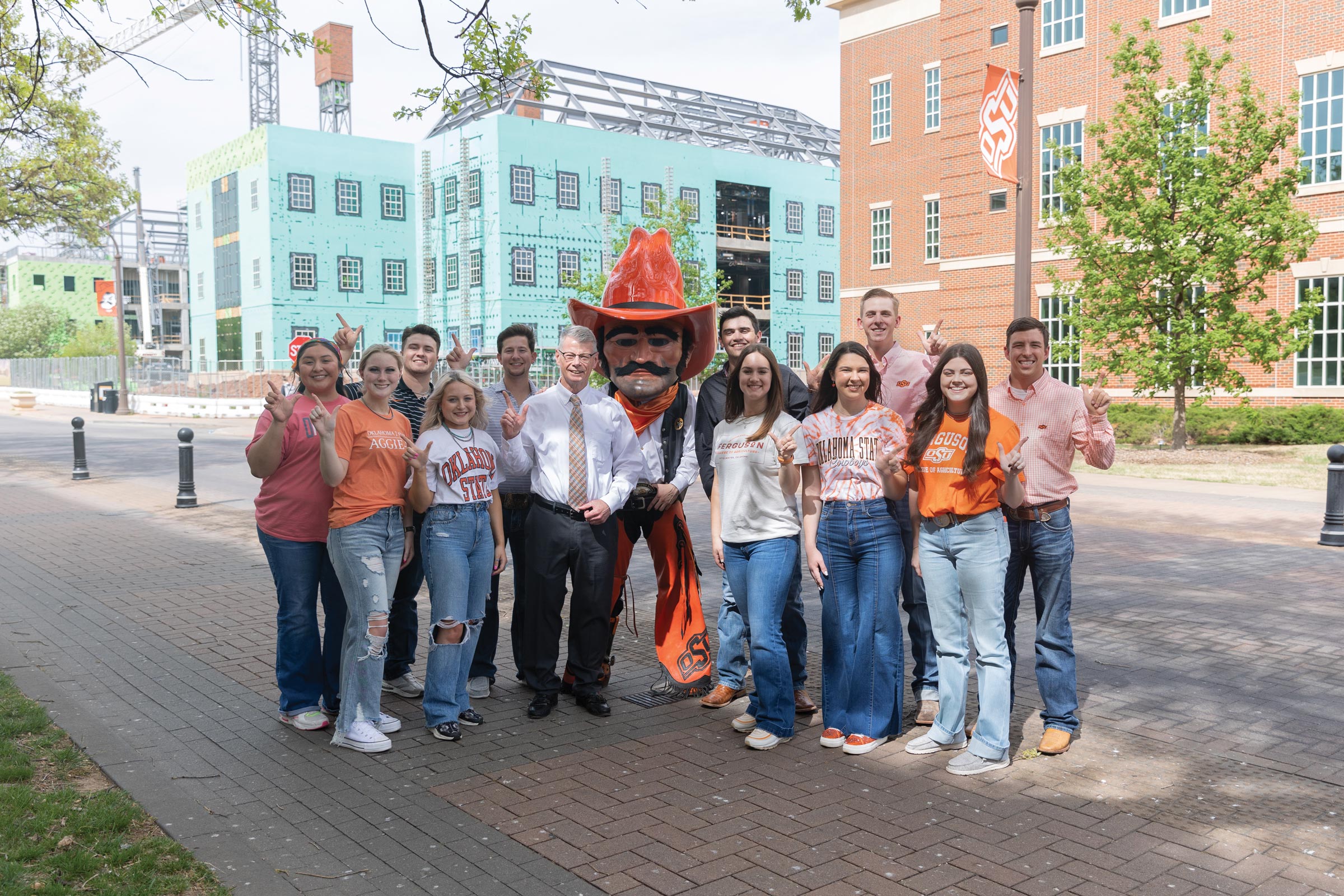 "They need to have a sense of what it's doing to people to make this move, because we're not just changing offices, we're changing how we do our work."
Coon was the driving force behind New Frontiers, a capital campaign to raise funds for a $115 million state-of-the-art teaching, research and Extension facility for OSU Agriculture.
In January 2020, OSU, in partnership with alumni Kayleen and Larry Ferguson, announced a $50 million gift from the Ferguson Family Foundation that renamed the ag college to the Ferguson College of Agriculture, created a $25 million endowment for the college's operation and designated $25 million to kickstart the $50 million New Frontiers campaign.
Construction is expected to be completed in the summer of 2024. Rodd Moesel, Oklahoma Farm Bureau president and owner of American Plant Products and Services in Oklahoma City, said most people would say New Frontiers was the highlight of Coon's tenure at OSU, but he would credit the relationships Coon made both on and off campus.
"Dr. Coon was able to get OSU Agriculture and the Ferguson College of Agriculture back in people's mindsets and get them to the table in so many different efforts and causes, developing relationships," Moesel said. "Those relationships made the fundraising possible despite times when we were dealing with budget cutbacks."
Rick Davis, member of the OSU/A&M Board of Regents, said it's hard to overlook Coon's ability to engage with alumni and donors.
"When you look at the building, Dr. Coon had the ability to cultivate relationships with not just the Ferguson family, but also with a large group of donors," Davis said. "He gets them to buy into the vision the Fergusons have for OSU and the division. The building and the resources he's leaving will impact lives in a far different way than it has been for many, many years now. It's going to help in every different aspect from recruiting to retention to research — you name it."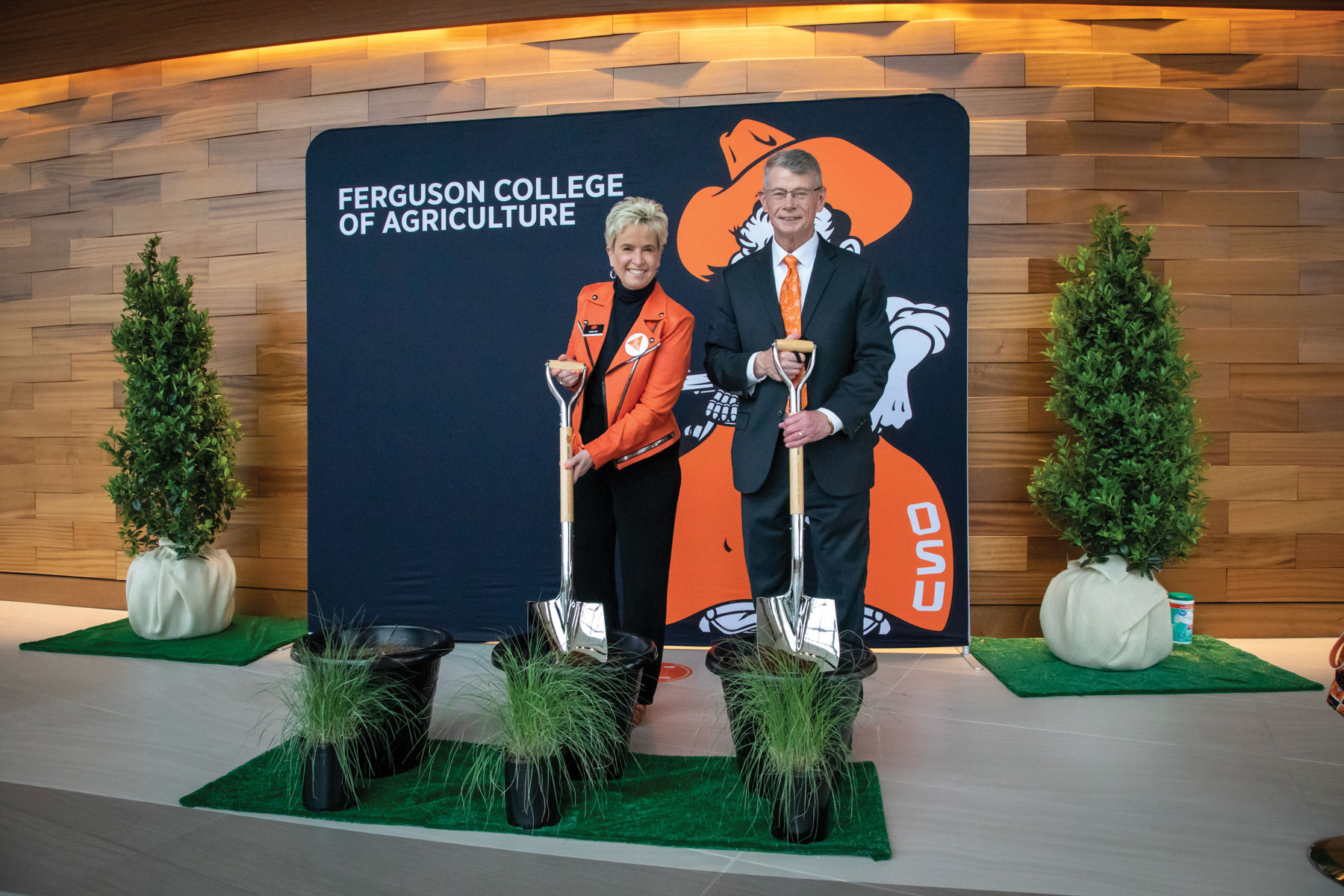 Davis said Coon was hired during a challenging time in Oklahoma higher education with difficult budget restraints.
Even through difficult times, Coon rose to the challenge and focused on what OSU Agriculture could do.
"No leader wants to be the one to maintain through attrition and downsizing and becoming less relevant," Coon said. "Even before the pandemic, morale was a challenge. The possibility to do facility and infrastructure projects was a subliminal message to people that we are not done yet. There is a future, and we have these new facilities."
Coon put a plan together for a series of infrastructure investments, which were accomplished by external fundraising, agency funds and university buy-in. The plan resulted in several infrastructure improvements, including the Charles and Linda Cline Equine Teaching Center; Ferguson Family Dairy Center; Oklahoma Foundation Seed Stocks Building; Greenhouse Learning Center; Animal Nutrition and Physiology Center; Dr. Raymond Sidwell Research Facility at the North Central Research Station in Lahoma, Oklahoma; and more.
"All those things and the culmination of New Frontiers were important investments at a time when we needed some sign of positivity that we have a future," Coon said. "Our master plan identified that's not the only thing we have left to do. The Agronomy Farm is another one, and other facility needs are critical to advancing OSU Agriculture even further."
Coon is recognized nationally as a leader in agriculture and natural resource management.
During his career, he was actively involved in the Association of Public and Land-grant Universities, serving on multiple committees, including the Board of Directors and Academic Heads Section for the Board on Agriculture Assembly and the Extension Committee on Organization and Policy.
Coon said the main reason he's been active in national organizations is to make sure OSU Agriculture is not only learning from others but also influencing the university's federal partners.
"I knew about Oklahoma State when I was at Michigan State because of the interactions I had with the delegates and leaders from Oklahoma," he said. "Oklahoma State is known for its leaders nationally and being part of the leadership team among land-grant institutions."
Dr. Cynda Clary, associate dean of the Ferguson College of Agriculture, said Coon is one of the most genuine people she's ever met and has been a strong mentor for faculty, staff and students.
"To students, he's been a great role model," she said. "When they were around him, he was Dr. Coon or Dean Coon, but that's not how they felt around him. They felt like he was someone they knew cared about them. I think that's a special quality to have in a leader."
When Coon was asked what his plans were after retiring, his answer was fishing, travel and grandkids. He now resides in southwest Michigan in Portage, 50 miles from Lake Michigan, two hours from his lake cabin and 1 1/2 hours from Michigan State.
"I joke with people about why I left in the middle of July," Coon said. "It's because salmon fishing picks up in the last half of July in Lake Michigan. In all seriousness, Rhonda and I are in good health, and there are a lot of things we want to do like travel and spend more time with our kids and grandkids."
Even after retiring, Coon is optimistic about the future of OSU Agriculture.
"I see it as a great opportunity for OSU and a great opportunity for the division to have a new leader come on board," he said. "The culture we have here, I didn't create that. That's been here. It's organic. It's a part of who this place is, and that's not going to change."
---
Scholarship created to honor the Coon Family
The Coon Family Study Abroad Endowed Scholarship was established to honor Thomas and Rhonda Coon's passion for student study abroad experiences through the Ferguson College of Agriculture. Members of the Cowboy family recently endowed this scholarship to create a legacy in the Coons' name and honor their dedication and support to OSU during the past nine years.
"Dr. Coon took OSU Agriculture to new heights and was the driving force behind making the New Frontiers capital campaign successful," said Heidi Williams, associate vice president of constituent development for the OSU Foundation. "It's only fitting that their legacy in the Ferguson College of Agriculture continues with this scholarship supporting students gaining experience outside the classroom. Many alumni and donors were quick to join in and give back to honor the Coons and make this endowed scholarship a reality."
Gifts to the Coon Family Study Abroad Endowed Scholarship can be made at OSUgiving.com/CoonFamilyScholarship.
---
Photos By: Todd Johnson and Kristin Knight
Story By: Mandy Gross | STATE Magazine