OSU Ferguson Family Dairy Visitor Center opens
Thursday, October 22, 2020
Oklahoma State University's Ferguson Family Dairy Center opened its new visitor center on Oct. 22.
The visitor center offers a unique and innovative platform to advance the land-grant mission of teaching, research and Extension, said Tom Coon, OSU vice president of agricultural programs. Those goals include:
Exhibit cutting-edge innovations that are part of the Ferguson Family Dairy Center.
Provide a firsthand educational environment for school systems that can strengthen the learning experience for students, even those as young as elementary school age.
Promote increased exposure of ongoing research conducted by OSU dairy faculty and students that benefit the agricultural industry and consumers.
Showcase research-based dairy management practices, as well as reasons why they are important to producers, animal performance and the food industry at large.
Share the university's renowned history of dairy programming and advances, going back more than 100 years, giving the public an appreciation for science at work and serving as inspiration for future dairy entrepreneurs and researchers.
"A lot of people have expressed interest in the new robotic milking system," said Clint Rusk, head of the OSU Department of Animal and Food Sciences. "Our cows have been in training for the past several weeks to learn how to interact with the system. Now they love it. The system is a good example of how technological advances can promote production efficiency and animal well-being."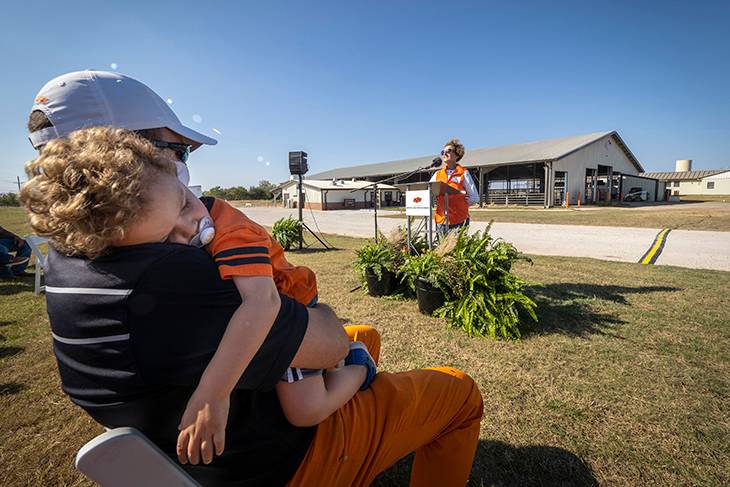 OSU alumnus Larry Ferguson discovered the loves of his life when he was working at the OSU Dairy Center in 1975, both in terms of his career and in the former Kayleen Helms. More than 40 years later, the former president and CEO of Schreiber Foods and his wife Kayleen were in Stillwater 2018 to witness dedication ceremonies for the new OSU Ferguson Family Dairy Center. Kayleen Ferguson was on hand Oct. 22, two years later, for the visitor center's grand opening.
The Fergusons likewise were instrumental in the construction of Helms Hall, the center's student living quarters named in honor of Kayleen's parents, who also met at OSU and had their own connection to the OSU dairy programs. Her father, Kenneth Helms, earned a dairy science degree before marrying Kathleen Cunningham. They both went on to earn master's degrees in education from OSU while teaching and raising two daughters and a son.
Earlier this year, they made a $50 million gift through the Ferguson Family Foundation to rename the college and transform OSU Agriculture programs. It was among the largest gifts in OSU's nearly 130-year history, allowing for the establishment of an endowment for the college's operations, and it kicked off a campaign for a $100 million teaching and research facility.
The opening of the new visitor center builds on the Ferguson family's vision and legacy for OSU dairy programs, Coon said.
"Ongoing improvements at the dairy center will help sustain good husbandry of the cows and calves in our dairy herd, while also promoting environmental stewardship, cost efficiency and safe food-handling practices through on-site practices and improved technologies," he said.
Due to pandemic concerns, the grand opening ceremonies were held virtually. Related media can be watched online.
"We have had hundreds attend our grand opening events in the past, but coronavirus precautions this year led us to emphasize a virtual experience," Coon said.
Information about donor naming opportunities affiliated with the visitor center is available online and by contacting Megan Smith of the OSU Foundation by email or by phone at 405-385-0743.
The OSU Ferguson Family Dairy Center is part of the university's Division of Agricultural Sciences and Natural Resources, which is comprised of the Ferguson College of Agriculture and two state agencies: OSU Extension and the OSU Ag Research.
MEDIA CONTACT: Donald Stotts | Agricultural Communications Services | 405-744-4079 | donald.stotts@okstate.edu