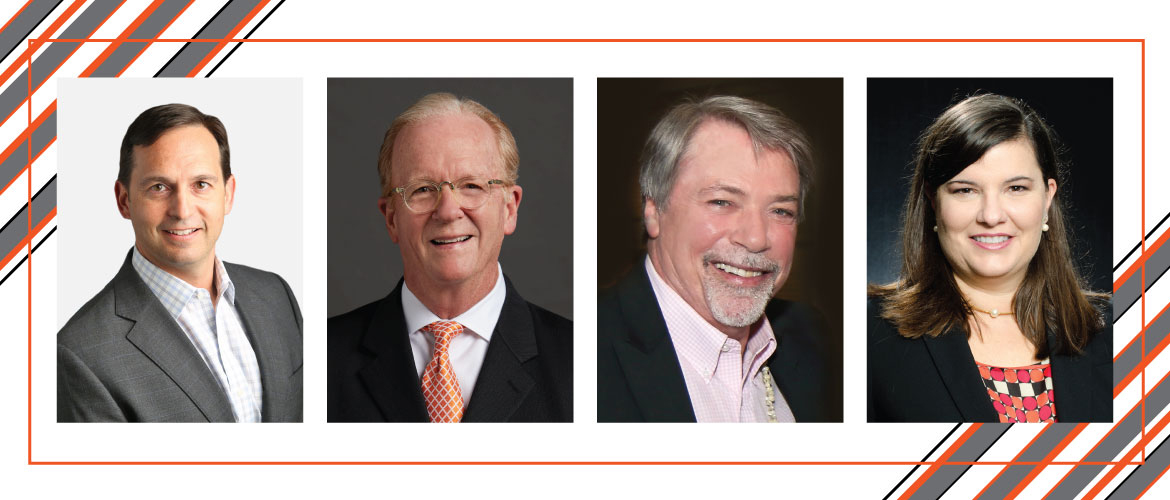 OSU Spears School of Business to honor alums with induction into Hall of Fame
Monday, October 7, 2019
Oklahoma State University's Spears School of Business will honor four distinguished alumni – Brian Callahan, Roger Lumley, Jeff McIntyre and Jill Sharp – with their induction into the school's Hall of Fame on Nov. 1 at the ConocoPhillips OSU Alumni Center.
The annual Spears Business Hall of Fame banquet recognizes graduates with distinguished professional careers who have given back to their communities, to OSU and who have displayed leadership skills. As Hall of Fame inductees, Callahan, Lumley, McIntyre and Sharp will receive the highest honor awarded by Spears Business.
Also, Spears Business alums Susan Crenshaw, Scott Eisenhauer and Payvand Fazel will be honored as Outstanding Young Alumni at the banquet.
"We are excited to welcome four new members into our Hall of Fame," said Ken Eastman, dean of Spears Business. "They represent career excellence in a wide spectrum of industries, from hospitality to energy. We are proud of their career success but even more proud of the quality of their character and the contributions they are making to society.
"The group of young alums we are honoring have accomplished much at the start of their careers and we look forward to seeing what the future holds for them. We are honored to count these seven individuals as members of the Spears Business family."
Brian Callahan is the president and chief operating officer at ISN in Dallas. He joined ISN in 2004 and has held a variety of management roles within the company.
Callahan earned a bachelor's degree in accounting from OSU, and then his MBA from the University of Oklahoma. While at OSU, he served as an SGA Senator for the College of Business and was a member of the Business Student Council. He was also a top 10 graduating student of the College of Business. In addition, he was vice president of the Delta Tau Delta fraternity and ROTC cadet battalion commander.
Prior to joining ISN, Callahan worked for the Federal Reserve Bank of Kansas City for six years. Prior to that, he worked as a financial analyst for Koch Industries in Wichita, Kansas, and also served as an officer in the United States Army and was stationed at Schofield Barracks, Hawaii.
Callahan is currently a board member for the Eastin Center for Career Readiness at Spears Business, serves on the Dean's Council Executive Committee at Spears Business and is a member of the Dallas Lone Star Chapter of the Young Presidents' Organization. He also serves as the vice chair of the National Safety Council Campbell Institute Steering Committee, serves on the advisory board of Leapfin in San Francisco, and was formerly a board member of Allied Transportation in Tulsa.
He lives in Plano, Texas with his wife, Angie, a fellow Oklahoma State grad and native of Duncan, Oklahoma. They have three children.
Roger Lumley retired earlier this year after working in the banking industry for 40 years. His finance career consisted of three major leadership roles in which he was instrumental in building meaningful business units at major regional banking institutions.
He spent 12 years as a senior corporate banker at The First National Bank of Boston before being lured in 1991 to Kansas City as senior vice president and corporate banking department manager for Mercantile Bank of Kansas City. In 1999, Lumley pursued two career opportunities outside banking – director of finance for a subsidiary of JE Dunn Construction Company and vice president and investment banker for the corporate finance and M&A unit of BKD, a regional CPA firm.
Lumley returned to his original passion of corporate banking in 2002, and the majority of his career over the past 17 years was spent at Bank of the West. He recently retired as senior vice president of UMB Bank in Kansas City.
Although now retired, Lumley hasn't slowed down as he continues to make a positive difference in the lives of students at OSU. He currently serves on the Dean's Council (mentoring subcommittee) and the Spears Business MBA Advisory Board (mentoring and recruiting subcommittees), and is a past member of the Spears Business Alumni Society Board. He has served as an integral partner with the Spears Department of Finance in establishing the annual Finance and Accounting Career Day and the establishment of the degree of MBA with Concentration in Finance and Investment Banking and the graduate-level Certificate in Finance and Investment Banking.
Lumley earned two degrees from OSU – a bachelor's in finance (1978) and his MBA (1979). He and his wife, Suzanne Dimmel, make their home in Kansas City, Missouri.
Jeff McIntyre is a partner and president of Benchmark, a Global Hospitality Company with more than 85 properties open or under development stretching across North America and Great Britain. He focuses on the growth of the company and maintains an office in Park City, Utah while working closely with Benchmark's home office in Houston, and Gencom's (a Benchmark partner) headquarters in Miami.
A promising high school athlete back home in Massachusetts, McIntyre wanted to play baseball for OSU and tried out for the freshman team when he arrived on campus in 1969. He didn't make the travel team and decided wisely to focus instead on his classes at the School of Hotel and Restaurant Administration. He stayed active in athletics and in 1970 was named the athlete of the year for OSU residence halls. He graduated with a bachelor's degree in 1972 and started his first job as the food and beverage director at a Holiday Inn in Port Arthur, Texas.
McIntyre has been a leader in the hospitality industry for more than 40 years. He is regarded as one of the best bottom-line operators in the business, while being known for creating unique and tailored points-of-difference at each hotel and resort, creating market share premiums that consistently topped the performance list at each company he worked for.
A certified hotel administrator, Jeff received his bachelor's degree in hotel and restaurant administration from OSU and graduated from the University of Minnesota's Senior Executive Management program.
McIntyre has been a visiting professor and lecturer at OSU, the University of Maryland, The University of San Francisco, Golden State University, The University of Denver, and Boston University.
Jill Sharp has spent her entire 27-year business career at Halliburton, progressing through a variety of financial leadership roles. Today, she is vice president of finance for the Western Hemisphere for Halliburton.
A first-generation college graduate (bachelor's degree in accounting, 1992), Sharp was a resident assistant for three years at OSU. She was also a member of the OSU Dance Company, a dance instructor at Showstoppers Dance Studio in Stillwater and captain of the Diamond Girls, a dance squad for the Oklahoma City 89ers baseball team.
She originally was hired by Halliburton as an accountant in Duncan, Oklahoma, before moving to Houston in 1996, performing various supervisory positions. Her transfer to Kilgore, Texas in 2001 as accounting manager for Southeast U.S. operations began a series of moves, including being named country controller in Calgary, Alberta, Canada, in 2003, where she earned her MBA from the University of Calgary. In 2007, Sharp transferred back to Houston as senior accounting manager for a global product line and in 2010 she earned the position of regional controller for the Asia Pacific region, based in Kuala Lumpur, Malaysia. She and her family returned to Houston in 2013 when she was named to her current position.
Her Halliburton awards include MVP for Leadership (2004) and MVP for Finance and Accounting organization (2010). She was elected class president of the 2013 President's Leadership Excellence Program class at Halliburton and received the Chairman's award in 2014. She is a team member of the Finance Mentorship Vision Team, University Recruiting Team, and Halliburton Benefits Executive Committee. Sharp has served on the board of Halliburton's University Advisory Board since 2016 and on the board of the non-profit organization Gratitude Initiative since 2017, and graduated from Deloitte's Board Ready Women program in 2019. Recently, Sharp was appointed to the OSU School of Accounting Advisory Board.
Sharp and her husband, James, make their home in the Houston suburb of Champions. They have two children, Jaxon, a junior at Colorado School of the Mines majoring in civil engineering, and Jaden, a senior at Cypress Creek High School.
In 2001, the Outstanding Young Alumni award was established to recognize alums who have provided significant service and achievement early in their professional careers. This year, Spears Business is honoring three outstanding individuals.
Susan Crenshaw earned two degrees from OSU – a bachelor's degree in mechanical engineering and her MBA. She lives in Tulsa where she is the Energy Management Leader for ONEOK, Inc. Crenshaw began her career as a sales engineer in the commercial construction business before joining ONEOK in 2010, and has enjoyed a variety of roles of increasing responsibility. She is past chair of the Tulsa Area United Way Women's Leadership Council and is also a member of the Tulsa Area United Way Board of Directors.
Scott Eisenhauer graduated from OSU in 1999 with a bachelor's degree in business administration where he was named a Top 10 Senior. He is the general manager of P&K Equipment, Inc., and P&K Midwest, Inc., a 27-store John Deere dealership organization with locations in Oklahoma, Arkansas and Iowa. Active in the community, Eisenhauer's involvement includes the OSU Alumni Association (Leadership Council member), OSU Foundation (Board of Governors member), Oklahoma Agricultural Leadership Program (Class XII), and others. Eisenhauer and his wife, Melissa, live in the Edmond area with their two children, Katie and Mason.
Payvand Fazel earned a bachelor's degree in economics (2008) and his MBA (2014) from Spears Business. He joined Williams Company in Tulsa in May 2011 and has held multiple leadership positions over the last eight years, accepting the position of vice president, NGL & Gas Marketing in September 2018. Fazel served on the board of directors for The Center for Individuals with Physical Challenges from 2015-2018, and recently joined the board for Family and Children's Services. Payvand and his wife, Meredith, have two sons, Carson and Callan.
For more information about the Spears School Hall of Fame, please contact Lindsey Wallace at 405-385-5160 or lindsey.wallace@okstate.edu.