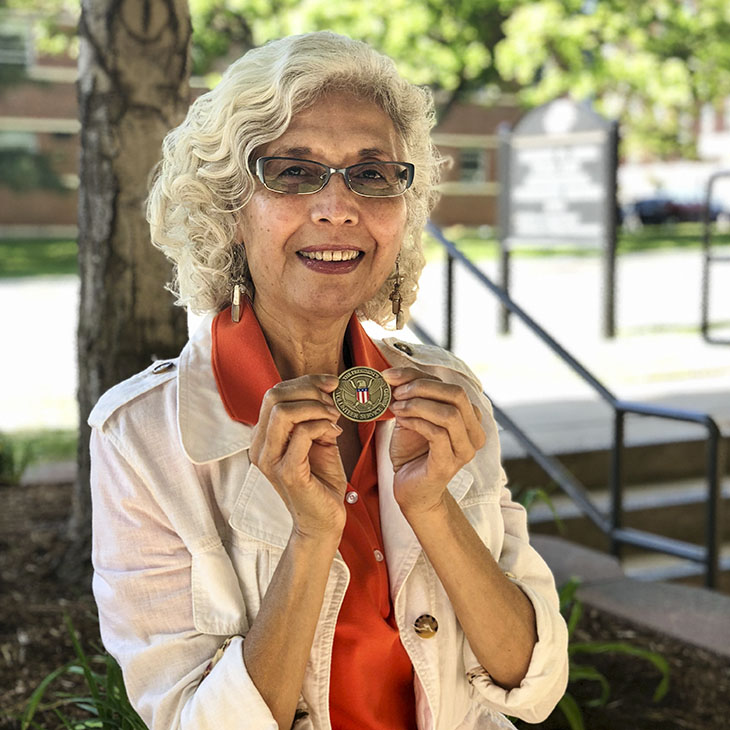 OSU faculty member awarded volunteer service award
Tuesday, June 19, 2018
An Oklahoma State University faculty member was awarded the President's Volunteer Award, a national honor presented by Winrock International in recognition of volunteer services.
Patricia Rayas-Duarte, a cereal chemist for OSU's Robert M. Kerr Food & Agricultural Products Center, received this honor for contributing more than 110 hours of volunteer service on international assignments in Senegal and demonstrating how local citizens can truly make a difference in today's world.
"I'm humbled and honored to be selected for the President's Volunteer Award from Winrock International," Rayas-Duarte said. "My volunteering experience influenced and inspired me on both a personal and professional level."
During her time in Senegal, Rayas-Duarte conducted workshops for a coalition center that trains women on skills to improve their employability. The workshop focused on cereal technology, cereal grains' composition, ingredients, functionality, labeling and processing for producing human cereal-based products and included hands-on applications. Rayas-Duarte plans to include the information in a manual for improving the processing of cereal products.
"I absolutely loved my interaction with the women coalition school," Rayas-Duarte said."The people in Senegal are very kind and the women who attended the workshop were smart, caring and very friendly. I look forward to more volunteer work and sharing my knowledge with other groups around the world, especially women's groups."
Established in 2003, the President's Volunteer Award recognizes individuals, groups and families who have met or exceeded requirements for volunteer service and have demonstrated exemplary citizenship through volunteering. As one of thousands of certifying organizations participating in the award program, Winrock Internationalconfers the award to honor the outstanding achievements of its volunteers.
Winrockhas a long history of international volunteer service, and more than 200 volunteers have been known to perform volunteer service each year on behalf of the organization, in large part through the Farmer-to-Farmer Program funded by the United States Agency for International Development.
DeAnn McGrew, director of agriculture and volunteer programs at Winrock, said volunteerism is a core American value.
"It connects us to our neighbors, whether they are local or global, and gives us an opportunity to use our skills for a greater good," she said. "As a certifying organization for the award program, Winrock Internationalis proud to be aligned with this prestigious volunteer award, and we are especially proud of our volunteers who have made volunteer service a central part of their lives."
The award is issued by the President's Council on Service and Civic Participation, a group created by President Bush to recognize the valuable contributions volunteers are making to our Nation. The council comprises leaders in government, media, entertainment, business, education, nonprofits and volunteer service organizations, and community volunteering.
"It is always exciting to see our staff recognized for their outstanding work," said Roy Escoubas, FAPC director. "We are extremely proud of Dr. Rayas-Duarte and her dedication to providing value added services in Oklahoma and around the globe."
FAPC, a part of OSU's Division of Agricultural Sciences and Natural Resources, helps to discover, develop and deliver technical and business information that will stimulate and support the growth of value-added food and agricultural products and processing in Oklahoma.
Story by Mandy Gross