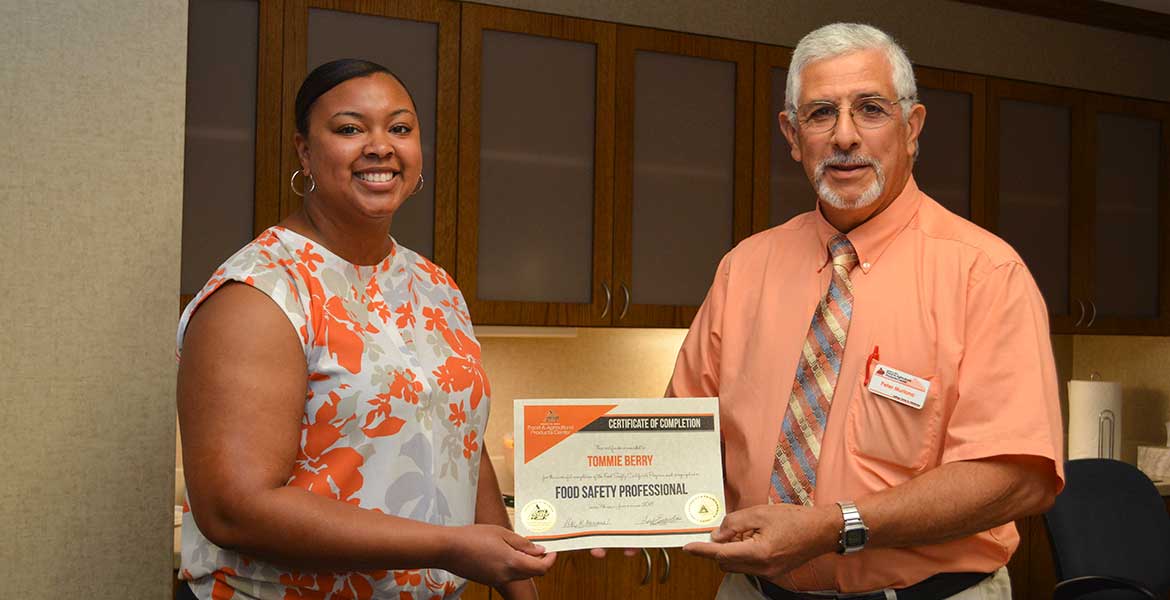 Industry leader reaps benefits of food safety program
Tuesday, September 11, 2018
Oklahoma State University's Robert M. Kerr Food & Agricultural Products Center launched a Food Safety Professional program to recognize food industry leaders who complete a significant number of food safety trainings offered by the state-of-the-art food processing center.
Individuals specializing in food safety are reaping the benefits of this program, including Tommie Berry, food safety and quality assurance manager of QuikTrip, headquartered in Tulsa, Oklahoma.
Berry said QuikTrip saw great value in the food safety courses and certification offered by FAPC and with a supportive company and desire to learn more about food safety, she applied for the Food Safety Professional program.
"I had already attended several of the courses before the program was offered," she said. "Each time I came back from a class at OSU, I gained a great deal of knowledge and different perspectives that I was able apply to QuikTrip's current methodologies to continue fostering a robust and dynamic food safety program."
Peter Muriana, FAPC food microbiologist and chair of the certificate program, said food industry representatives from across Oklahoma and even around the nation come to the center to get food safety training.
"We saw a need in recognizing these individuals who continually come back to FAPC to receive training and for their focus and drive in providing safe and quality products to consumers," he said. "As food safety evolves, it is critical for food safety professionals to continue to attend trainings and educate themselves about new and improved food safety criteria."
Berry said food industry representatives have one goal: to produce safe food, and the best way to accomplish the goal is through education and training.
"With technology, media, and social media, consumers are more aware of where their food comes from and want to have confidence that the food they consume is safe," she said. "Over the years, big brands have been damaged by breakdowns in food safety. Creating and maintaining brand loyalty is critical."
Berry said food companies are responsible for making sure customers feel safe consuming food products.
"If you lose brand loyalty, the ramifications from that can be too much to recover from," she said. "The Food Safety Professional program provides the fundamentals needed to produce food in a manner that will protect your customers and preserve your brand."
Berry said she would highly recommend the Food Safety Professional program to others in the food industry.
"I was relatively new to food safety when I started at QuikTrip three years ago, and this program has been invaluable in quickly catching me up on the steep learning curve I faced with all of the different elements involved with food safety," she said. "The course instructors have so much experience and knowledge in the industry, and it really brought me to a better understanding of the material."
In addition, Berry was able to meet and network with other food industry representatives attending the trainings.
"With ever-changing regulations and advancements in food safety, being able to collaborate with and hear about the challenges other companies have faced and how they were able to work through those challenges was very insightful," she said.
To be recognized as a FAPC Food Safety Professional and receive a certificate, individuals must complete at least two workshops from each of the basic, regulatory and advanced groups of courses for a total of 10 credits and must take or have taken the workshops within six years.
"Although the program has only been implemented since March 2018, FAPC has already awarded seven certificates, while an additional seven individuals have applied for the program," Muriana said. "I hope employers will recognize the efforts put forth by their workers who achieve the certificates with some form of financial remuneration."
For more information or to apply for the Food Safety Professional program, download the FAPC Connect App by texting FAPC to 80802 or visit www.fapcconnect.com.
FAPC, a part of OSU's Division of Agricultural Sciences and Natural Resources, helps to discover, develop and deliver technical and business information that stimulates and supports the growth of value-added food and agricultural products and processing in Oklahoma.
Story by Mandy Gross