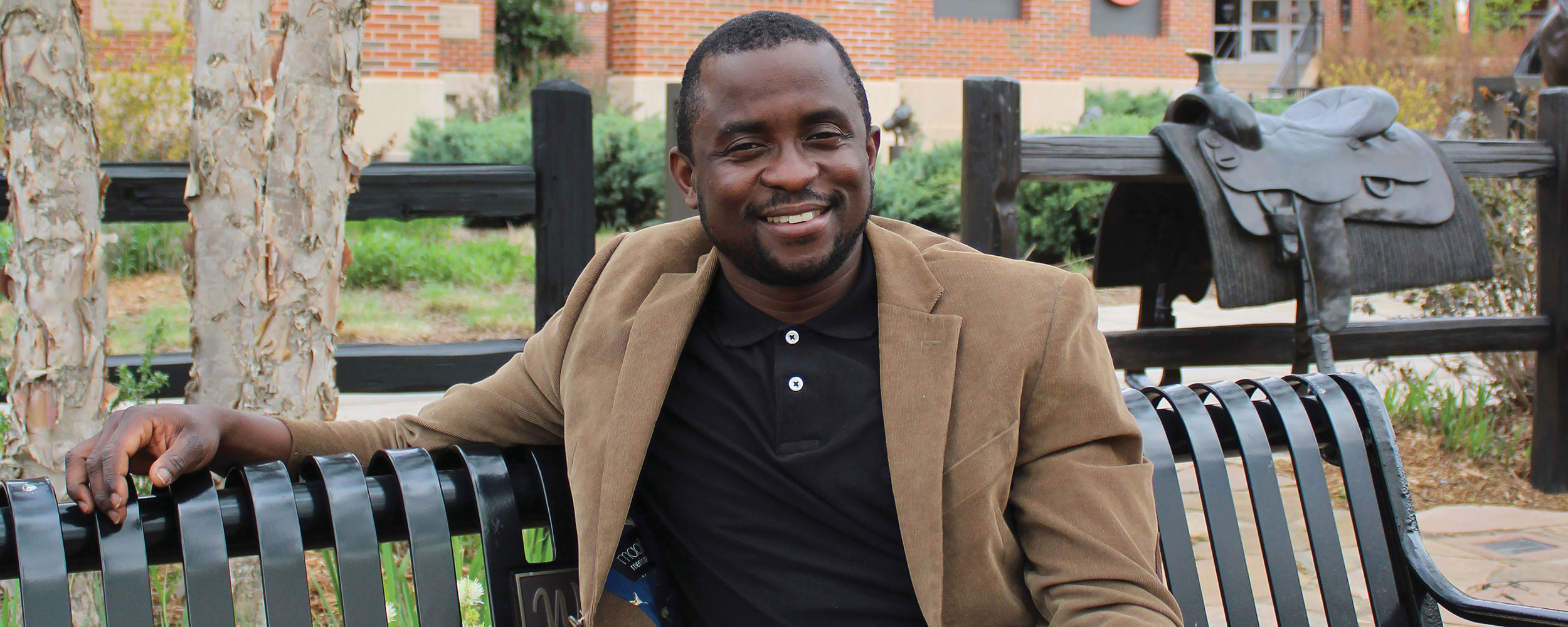 International Innovation
Thursday, June 10, 2021
Media Contact: Samantha Siler | Communications and Marketing Manager | 405-744-2977 | samantha.siler@okstate.edu
The words of Matshona Dhliwayo can offer direction for entrepreneurs: "If you know where you are from, it is harder for people to stop you from where you are going."
His quote inspired the journey of Siewe Siewe, adjunct professor at Oklahoma State University, to become an entrepreneur by producing a food from his African culture.
Siewe worked with the staff from the OSU Robert M. Kerr Food and Agricultural Products Center to produce the first U.S. Department of Agriculture-approved edible beef skin in the country.
The idea for this product came from food Siewe grew up producing at home in Cameroon, West Africa, he said. Beef skin is a common food in many different cultures around the world, Siewe added.
"This project is important to me because it is an aspect of my identity," Siewe said. "I am part of the beef-hide-eating African culture."
Siewe named his product KandaKpomo. In his culture, beef skin is called Kanda, he said, and in Nigeria, where his wife is from, the food is called Kpomo.
When Siewe brought the idea of this project to FAPC about two years ago, the staff immediately started the process of helping market his product, said Andrea Graves, FAPC business planning and marketing specialist.
"I didn't know if he was entirely serious, to be honest with you, because it was something I'd never heard of," Graves said.
"The USDA did not consider cow hide as an edible product," she said. "We had to come up with a food safety plan that we had to send to prove the way we were going to produce this edible cow hide was safe."
Innovation and helping develop value-added products always have been important goals to FAPC at OSU, Graves said.
Graves helps manage projects that come to the center and has been one of the main members of FAPC to help on the KandaKpomo project, she said. The FAPC team developed a more mechanical, commercialized process to make the product more efficient and economically feasible, Graves added.
In addition, the team assisted in writing necessary food safety protocols by writing Hazard Analysis Critical Control Point plans, she said.
"FAPC helps you develop a technique, a product and a processing strategy," Siewe said. "We had to develop machines, HACCP plans and new ways of processing the product."
Not only have the staff members at FAPC helped Siewe get his product USDA-approved, but also they have helped him with branding for his business and finding ways to make producing his product more effective, Siewe said. They have reduced processing time from six hides in two days to six hides in four hours, he said.
"I was very blessed to meet the team at FAPC," Siewe said. "They helped me navigate all of the hurdles, and there were plenty of them."
Learning the process of producing the product while maintaining regulatory compliance was a challenge during this project, said Jacob Nelson, former FAPC facilities manager.
"It wasn't necessarily the USDA approval of this product that was the most difficult part of this project," Nelson said. "It was making sure our process was compliant with the existing regulations."
Nelson showed Siewe new processing technology to enhance the product and gain USDA approval, Siewe said.
Although Nelson has since left OSU, he is still a consultant on Siewe's team and works with him on ideas to maximize efficiency and address regulatory compliance for the project, Siewe said.
From the start of their process to help Siewe, members of FAPC sent him in the direction of creating a successful business, Graves said. The staff first sent him to a one-day work-shop called "Basic Training for Food Entrepreneurs." They then helped him create a business plan, she said.
"We want to ensure everyone who comes to FAPC has a foundation and does the first steps you need to do correctly," Graves said.
Almost two years from the day Siewe presented his product idea, he finally saw the product, Siewe said.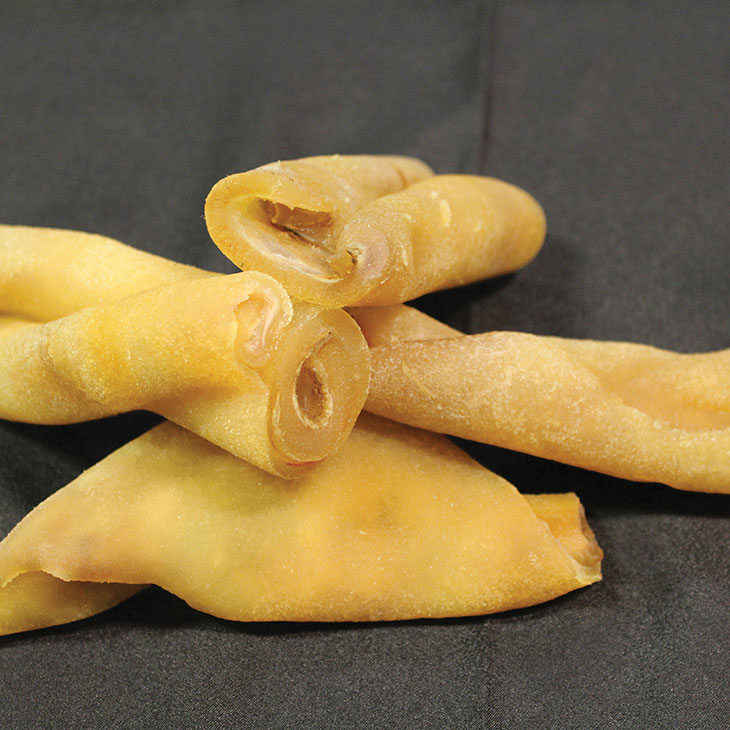 Prior to USDA approval, the product was not available for purchase legally in the U.S., Siewe said, and the quality was terrible.
"I've been able to find the proper way of producing my project," Siewe said. "We use the way of doing it right according to the culture and the principles and the laws of this country, which makes it even better."
This project is significant because of its meaning for the cultures that consume it and because the consumer base is so large, he said.
"The end product has a high value in the specialty stores where it is being sold," Graves said.
Siewe has sold hundreds of pounds of KandaKpomo every month since it launched, Graves said.
With more than 3 million West Africans in the U.S. and a high demand from the customer base, this project was worthwhile to market, she said.
"We see trends that African flavors are hitting more of the mainstream market now, so that is another reason this is a strong project," Graves added.
Siewe has direct customer sales online all over the country. He sells the majority of his product to businesses in Oklahoma and Texas, which is about 60% of his total sales, he said.
Goals for this product are for it to be common to eat in the U.S. and for most African households to be consuming this product, Siewe said.
"We are hoping someday everybody starts eating beef hides because we started processing it the right way," Siewe said. "We worked it into something that becomes cross-cultural."
This project also may bring new growth to the hide industry, as there has been a decline in the leather market, Graves said.
"The leather market just isn't there right now," Nelson said. "Hides of freshly slaughtered beef are of little value from any industry."
This project provides a new marketability for beef hides and could decrease the amount of food waste the beef industry contributes, Nelson said.
Although this project has been successful, Siewe still works through FAPC to improve upon his product and business, he said. They are working to reduce processing time for six hides down to one hour and on patenting the machines used for processing through OSU, he said.
"Siewe and the FAPC team are continually adding new equipment to quicken the process and make it more efficient," Nelson said.
Siewe plans to grow his business outside of FAPC, he said. Although FAPC has been crucial to this project, the business will need to move locations to continue the growth of this project, he added.
"A lot of people come in with ideas, but it really takes someone special to move forward with it," Graves said.
Team members working on this project at FAPC believe this product is unique and could make a mark on the world, Graves said.
---
Story By: Anne Signore | Cowboy Journal