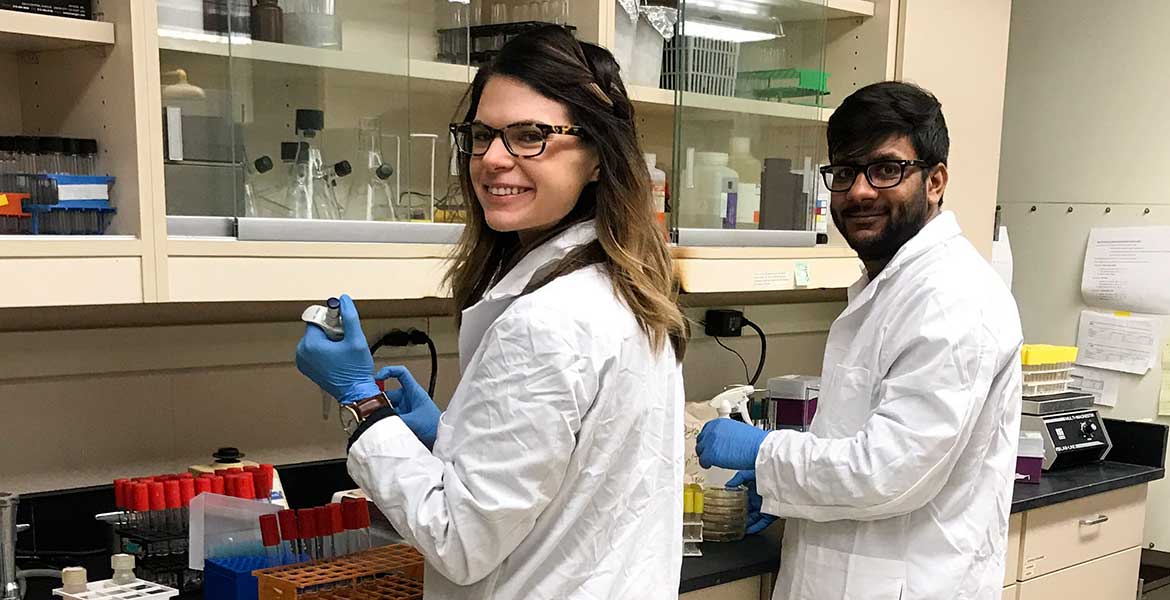 FAPC assists with validation of South African dried meat product
Wednesday, February 20, 2019
Beef jerky a staple in the salty snack realm across the country, and the United States Department of Agriculture requires specifics during production to ensure the dried beef is safe to consume. However, those standards are not upheld around the globe.
Researchers at Oklahoma State University's Robert M. Kerr Food & Agricultural Products Center recently assisted Stormberg Foods, a family-owned South African company, with the validity process of producing biltong, a novel version of beef jerky.
"Biltong has similarities to beef jerky in the U.S. but various differences in the production process," said Peter Muriana, FAPC food microbiologist. "The key differences are not using heat lethality and utilizing vinegar, salt and spices in the traditionally thicker cuts of meat, which create differences in the overall processing."
Stormberg Foods recently opened a manufacturing plant in Goldsboro, North Carolina, but were not permitted to produce biltong until receiving USDA-Food Safety and Inspection Service process approval.
A consultant, which has worked with Stormberg Foods for several years, recommended the company directors contact FAPC.
"The recommendation of the center meant a lot," said Gary Moorcroft, chief executive officer of Stormberg Foods. "When I saw the world-class facilities and learned more about Dr. Muriana's expertise in antimicrobial meat studies, I knew FAPC would provide the validation we needed to start producing biltong in the States."
Muriana and his team completed a validation study evaluating the effectiveness of the antimicrobial-modified traditional biltong process on the survival of Salmonella.
"In order to manufacture and sell in the U.S., dried beef products must comply with regulations in regard to survival of potential microbial hazards associated with raw beef products like Salmonella," said Muriana. "The study required achieving a 5-log reduction of Salmonella."
According to the Food and Drug Administration, a 5-log reduction involves lowering the number of microorganisms by 100,000-fold, that is, if the surface has 100,000 pathogenic microbes on it, a 5-log reduction would reduce the number of microorganisms down to one.
"Multiple trials of the study were conducted to reach the 5-log reduction and based on each replication of the study, the data indicates the process meets validation criteria for USDA-FSIS dried meat product," Muriana said.
With process approval, Stormberg Foods will be able to start producing biltong at their North Carolina location in the near future.
The introduction of the all-natural, gluten-free and no-added sugar snack to the U.S. market comes at a prime time.
According to consumer research firm Nielsen, 57 percent of consumers report low-sugar is important in deciding what to buy for their households — up from 55 percent from last year.
"More and more, consumers are wanting convenient, healthy and filling snacks to add to their diets," said Chuck Willoughby, FAPC business and marketing relations manager. "The addition of a protein snack, like biltong, will help diversify the market and provide another option for consumers across the nation."
The validation study completed for Stormberg Foods is another example of how FAPC is continuing to support the production of safe, quality foods, as well as the innovation and growth of the food industry.
FAPC, a part of OSU's Division of Agricultural Sciences and Natural Resources, helps to discover, develop, and deliver technical and business information that stimulates and supports the growth of value-added food and agricultural products and processing in Oklahoma.
For more information about food safety, text FAPC to 80802 to download the free FAPC Connect app or visit www.fapcconnect.com.
Story By Tori Lock
FAPC Graduate Assistant